Read Time:
3 Minute, 35 Second
Hey guess what ALL of these accused have in common!?
Hey guess what ALL of these accused have in common!?
NONE OF THEM ARE DRAG QUEENS!
None of them have been dressing as women and reading books to kids.
None of them are Gay, Bi, or Trans.
They are ALL straight, white, heterosexuals. Just like a vast majority of predators and pedos are (And cops, clergy and coaches are the professions with the highest percentage of child abusers and predators.)
So far this seems to be a very efficient fishing expidition by the Topeka Police Dept. I'd like to know more about their methodology and how they are REALLY performing this largely performative investigation. Is it entrapment? That will get cases thrown out of court. Is it a |to catch a predator| type operation? (Which was really very borderline entrapment) In which case it reveals what one of the main character traits and profile points of these kinds of child predators: They aint too bright, and they are impulsive and cannot control their urges. And theres strong evidence that men who commit these kinds of crimes are usually members of the republican party (TWO of trumps campaign chairs and directors, one of them a Judge, are now serving time for child sex trafficking and sexual exploitation of a child)

The local copagandist "newz" outlet WIBW has been covering these arrests and TRUMPeting them on their website and news shows. Oh what will a cop-sucking organization like WIBW do if and when they have to cover (or cover-up) a sex scandal involving active police officers? (Or even disgraced EX-police officers….the likes of which TRUMPet the Chick Fil A / Anti-LGBTQ and Republican Oaf Kreepers fake news contention that "Drag queens reading books to people is bad for kids", and they "Must be run out of Kansas.". Although as always, the actual evidence and statistics point the opposite direction;



Below is what WIBW had to say about the most recent arrest.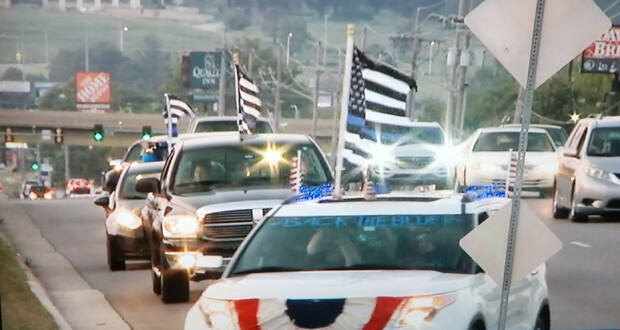 A |Rolling Rally| held in 2020 was a vaguely veiled Trump Rally organized by local book-banners and Copagandists. The same people organized several trump Rallies, as well as organized bus loads of people to go to Washington DC on Jan 5th to attempt to usurp the capital building and procession of government, Where Ron Gish's friends William Pope and others participating in the riots that ironically caused the death of 4 police officers.
Organizer Ron Gish said the event was meant to support police officers and to protest current efforts underway to put more restrictions on police departments.
Third Topeka man arrested for internet child sex crimes in less than 1 week
Third Topeka man arrested for internet child sex crimes in less than 1 week
By Sarah Motter
Published: Jun. 7, 2023 at 1:17 PM CDT|Updated: 12 hours ago
TOPEKA, Kan. (WIBW) – A third Topeka man has been arrested in connection to internet child sex crimes in less than a week.
The Topeka Police Department tells 13 NEWS that on Tuesday, June 6, Eric J. Jacklovich, 56, of Topeka, was arrested in connection to an ongoing investigation.
Shawnee Co. booking records indicate that Jacklovich was booked into the Department of Corrections around 5:35 p.m. on Tuesday. He stands accused of:
Aggravated internet trading in child pornography – a child under the age of 14
Electronic solicitation – offender believes the child to be under the age of 14
This is the third arrest of this nature in Topeka in less than a week. On Monday, TPD arrested Robert Patterson, 67, of Topeka, with identical accusations while Matthew Ward, 54, of Topeka, was arrested Friday on similar accusations.
TPD has not said any of the cases are connected.
As all three investigations continue, TPD said it will not release further information.
Copyright 2023 WIBW. All rights reserved

A previous WIBW article…..Still not a Drag Queen!

https://www.wibw.com/2023/06/07/second-topeka-man-arrested-child-sex-crimes-less-than-week/

And Another article about the first man arrested during this "Investigations" (Notice how they all LOOK like cops?

https://www.wibw.com/2023/06/06/man-accused-internet-child-sex-crimes-arrested-capital-city/